Guangzhou Premiere of The Phantom of the Opera - 22 Sep 2015 to 18 Oct 2015
Friday, October 2, 2015 by PETER SINCLAIR | Guangzhou Opera House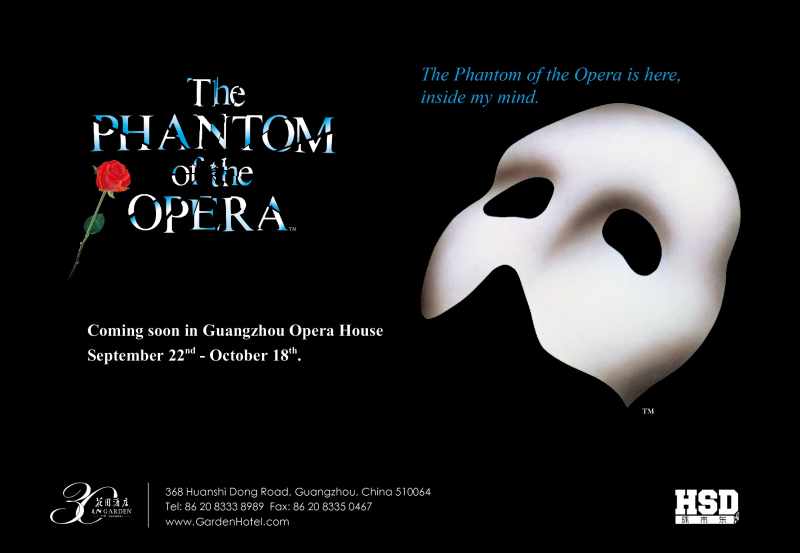 The Phantom of the Opera is a musical written by Andrew Lloyd Webber with lyrics by Charles Hart and Richard Stilgoe, based on the French novel Le Fantôme de l'Opéra by Gaston Leroux. The musical opened in London's West End in 1986, and on Broadway in 1988. It won the 1986 Olivier Award and the 1988 Tony Award for Best Musical. It is the longest running show in Broadway history by a wide margin, and celebrated its 10,000th Broadway performance on February 11, 2012.

By 2011, The Phantom had been viewed by over 130 million people in 145 cities in 27 countries, and it continues to play in both London and New York. This September, for the first time ever, the world-class cast will appear on stage at the Guangzhou Opera House!
Officials from the Opera House said that it cost about 30 million RMB to bring this world-class musical to Guangzhou audiences. From stage scenery to performers' costumes, the opera troupe is trying to bring the most authentic show to Guangzhou. In the words of executive director Philip Godawa, "The musical shown in Guangzhou will be no different from the musicals playing in West End and Broadway."
Get your tickets early to avoid dissapointment!
http://www.thephantomoftheopera.com/get-tickets/buy-online